King's College Chapel, Cambridge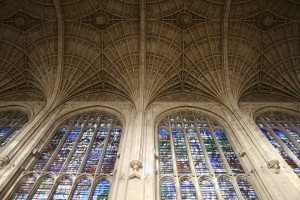 The Cambridge Philharmonic performs regularly in King's College Chapel in the centre of the city. Acoustically, it is extremely resonant but with a softness that makes an extraordinary sound possible. The chapel is a splendid example of late Gothic (Perpendicular) architecture.
West Road Concert Hall, Cambridge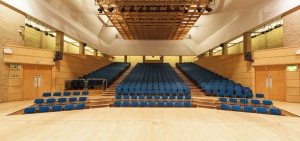 West Road Concert Hall was built in 1978 by Sir Leslie Martin (architect of London's Royal Festival Hall) and it is widely regarded as one of Cambridge's premiere music venues with superb acoustics. It is situated only a few minutes' walk away from the Cambridge Backs and King's College.
Photo: Alice Boagey
Ely Cathedral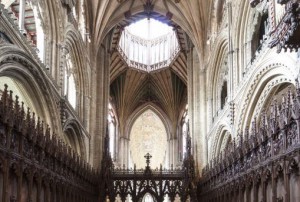 The present Ely Cathedral building dates back to 1083 – built in a monumental Romanesque style. Later, in the 14th century, parts were rebuilt in an exuberant Decorated Gothic style. Its most famous feature is the central octagonal tower, with lantern above, which provides a spectacular internal space and acoustic.
Saffron Hall
Saffron Hall is an award-winning 740-seat performance space built in the grounds of Saffron Walden County High School. The hall possesses a critically acclaimed acoustic, and has seen performances by artists including the London Philharmonic Orchestra, Maxim Vengerov, Penguin Cafe, Nicola Benedetti, Courtney Pine and the Sixteen.